Tops Friendly Markets
Recipes
https://tops1.lasso1.webstophq.com/Recipes/Detail/8158/Guacamole_Stuffed_Chicken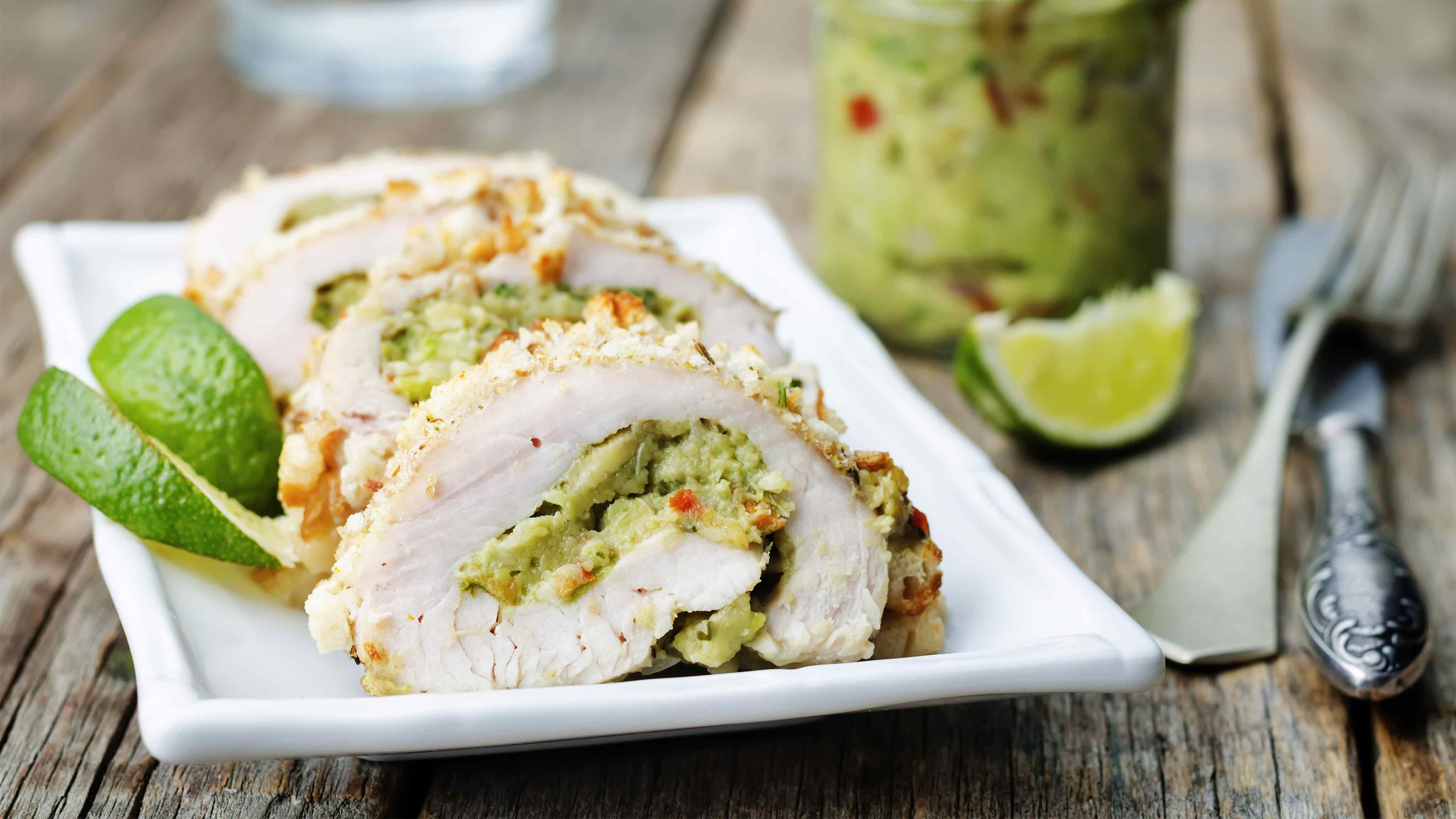 Guacamole Stuffed Chicken
Yield: 4 servings
Preparation Time: 30 min; Cook: 30 min
Ingredients
4

boneless, skinless chicken breasts (about 1 1/2 pounds)

1

avocado, skin removed and pit discarded

2
Tablespoons

diced red onion

1/4
cup

chopped tomato

1
teaspoon

fresh lime juice

1/2
teaspoon

salt, divided

2

eggs

1
cup

plain panko breadcrumbs

2
teaspoons

lime zest

1/2
teaspoon

garlic powder

1/4
teaspoon

chili powder

1/4
teaspoon

ground cumin

1/4
teaspoon

ground black pepper

Garnish with:

Fresh lime wedges
Add To

Directions:
Preheat oven to 400 degrees F

Using a mallet, pound each chicken breast very thin and flat. Set aside.

Place the avocado in a medium bowl and mash with a fork. Add the onion, tomato, lime juice, and 1/4 teaspoon salt; stir to combine.

Evenly divide and spread the guacamole in a thin layer over each piece of chicken. Roll up the chicken, starting with the thin pointed end. Secure the rolled chicken with toothpicks.

Whisk the eggs in a shallow bowl.

In a separate shallow bowl, add the breadcrumbs, lime zest, garlic powder, chili powder, cumin, 1/4 teaspoon salt and pepper; stir to combine.

Roll the stuffed chicken in the eggs and allow the excess egg to drip back into the bowl. Press and roll the chicken in the breadcrumbs and shake off the excess crumbs. Place the chicken seam-side down in a baking dish that has been sprayed with cooking spray. Discard the remaining egg and breadcrumbs.

Bake for 30 minutes, or until the chicken is cooked through and the outside is golden and crispy.

Remove the toothpicks. Slice each chicken breast horizontally into 4 slices. Place each slice side seam-side down on a serving tray so the pieces are slightly resting upon one another. Garnish with fresh lime wedges.
Please note that some ingredients and brands may not be available in every store.
Tops Friendly Markets
Recipes
https://tops1.lasso1.webstophq.com/Recipes/Detail/8158/